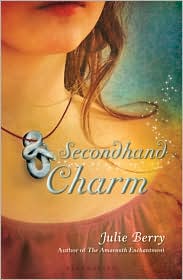 Secondhand Charm
by Julie Berry
Bloomsbury, 2010
young adult fiction
Evie lives with her grandfather in a small village, where she has become known as a healer. What she wants more than anything is to travel to the city to attend the university and become a doctor.
When the king travels to Evie's village to take part in a local celebration, one of his men falls ill. Evie heals him, and the king, impressed by both her abilities and her studies
(she is second in her class), offers her a scholarship. Evie sets off for the city with her best friend and the boy next door on what becomes a challenging and exciting journey.
Full of action, adventure, a little romance, and a lot of surprises, I could not put this down. I constantly wanted to find out what was going to happen next. In the beginning, there are hints of magic and family secrets, and Berry knows how to draw these out in perfect timing.
This is Berry's second novel.
The Amaranth Enchantment
was her first, and it was great, but this is even better. I know this book just came out, but I can't wait to see what she does next.
Reviewed from library copy